Hi beauty lovers,
I am always super busy with work life and sometimes I lack the time to cleanse my skin properly during morning and night due to rushing to get to work everyday.
Did you know cleansing is one of the most important step in your skincare routine? And of course choosing the right cleanser for your face is essential when it comes to treating your skin properly. We all need to ensure that we are well preserving our skins natural moisturising factors and oils that gives our skin protection from external factors such as weather, the sun, dust, oil and so forth.
Here's an interesting quote that you might not have heard of by Dr Kurzydlo...."Applying cosmetics and product create a film on the skin that may trap pollutants. Cleansing the skin to remove cosmetics and impurities that have been built up on the surface throughout the day and night gives it a fresh start.."
True story right? We don't know it but when we don't clean all of our make-up off after a long night out...this can prevent your skin from being healthy, smooth, supple and soft. (Hands up in the air if you're guilty of this!)
This week I have tested out Cetaphil's Moisturising lotion AND Cetaphil's Oily Skin Cleanser for four days and already I am seeing incredible and successful results of both cleanser and moisturising lotion being able to leave my skin feeling smooth and healthy. Overall, I can't go wrong with Cetaphil as it's not harsh, has a very light formula and it's perfect for everyday use.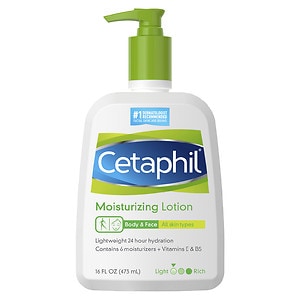 I'll kick it off with Cetaphil's Moisturising lotion. After trying so many lotions out there, what really is the perfect one? This moisturising lotion provides a silky canvas for your face leaving it feeling really hydrated and very moisturised. It's not too sticky or runny which is something I always look for when shopping for moisturisers, so this was a plus for me. It glides on so well that I am always excited to pop open the lid and squeeze more onto my body, face and legs. You can use for face and body too, so it's always good to know that I will get the much needed hydration for my skin.
I've noticed that my skin felt smoother and softer after a few days of using the lotion both morning and night. I woke up with a fresh feel after using the lotion at night which is always a warm and comforting feeling. My skin felt firmer and I am so happy about the results from using the lotion. It's a non-greasy formula which I totally love and so when I lather onto my skin, I don't get the icky feeling which is a good thing.
The lotion is lanolin, paraben and fragrance free which is such a relief to hear because when you use very fragrant lotions, they tend to be too strong for my liking, so this lotion was perfect in a sense that I felt very comfortable using it twice a day. The product is also regarded as non-comedogenic meaning that it doesn't contain oils and will not clog your pores! This is a must because you want to cleanse your pores and ensure that you don't block them all the time as this will prevent your skin from being healthy and shiny.
The product packaging is so original and I love how it looks and works. It comes with a flip top lid which is convenient for squeezing out product without making a mess! The bottle itself feels very durable and the colours of green and blue is very noticeable in my bathroom cabinet. I feel Galderma did a great job in updating the product image because it's so much more attractive, durable AND does its job which is something I always like to see with skin care products.
The product itself is a very light cream and when I applied it onto my skin, it just felt so light and airy. Didn't feel heavy or anything so I am impressed by the consistency of the lotion being super light. Was there fragrance? As mentioned there is no fragrance so this is ideal for those with sensitive skin and I feel that you tend to apply more because the smell is neutral, gives you the added benefits of smoother skin - so there's a mindset to just keep applying more lotion! Thank gosh for no harsh strong smell :)
It is super easy using the product, all you have to do is just apply the lotion right after you shower because you want to hydrate your skin after bathing. In the long run, I can definitely see myself continuously using this lotion because it's just that easy for me to do so because I believe it keeps my skin so hydrated and I am very impressed with the results.
My overall star rating for the lotion is definitely 5/5 stars!
POSITIVES:
Very light hydration, absorbs fast.

Fragrance, lanolin and paraben free.

Non-greasy.

For full face and body use.

Does not clog the pores

Leaves skin feeling smooth and soft.
NEGATIVES:
I had a good experience so zilch!
BEAUTY TIPS:
Apply after shower onto body and face for full hydration benefits
Onto the other twin product that I'd like to share with you is the Oily Skin C
leanser for oily or combination skin.
I absolutely noticed visible changes to the pores on my face being thoroughly cleaned and the oils on my face had been successfully removed by this super oily skin cleanser. I felt that my pores were de-congested from impurities, dirt and grime. After use, my skin felt super clean and soft which is always essential when it comes to your skin cleansing routine. It definitely removed the oils and all of the makeup I had on my skin during the day when I cleansed at night which felt good as I am always eager to take off make-up at the end of the day.
The packaging of the skin cleanser is exactly the same as the lotion (just more of a white colour for packaging) so I thought it was so cute and consistent to maintain that durable and convenient use of the packaging. Again, with the fragrance, there was slight floral smell but I believe these are the cleaning agents needed in the product to give your face a full cleanse.
When using the skin cleanser, it was as simple as massaging in circular motions when cleansing as this dislodges any residue or bacteria left on the skin and that may be trapped. They say it's best to not just rub straight up and down but rather focus more on circular motions as this is the best way to do it. It's also recommended not to use water that's too hot as this may damage the skin's natural protective oils by damaging the barrier, so hence I just used lukewarm water to cleanse my face.
Overall my star rating for this cleanser is a

4.5/5

stars!
POSITIVES:
Removed my surface oils, dirt, skin debris and makeup entirely.

Does not leave any irritating residue, no stinging, no breakouts.

Doesn't leave my skin feeling tight or dry.

Does not block my pores but in fact thoroughly cleans the pores on my face (especially my nose - blackheads alert!)
NEGATIVES:
Just remember to use lukewarm water when cleansing the face otherwise your skin may dry out.
BEAUTY TIPS:
Massage onto wet skin with circular motions and then rinse off.
Furthermore if you're all wondering where to purchase the lotion and cleanser, please see the details below for more information:
Here is their website: www.cetaphil.com.au to view more of the Cetaphil range! Check it out guys!
Cetaphil Gentle Skin Cleanser is available in 125ml RRP $8.60, 250ml RRP $10.85, 500ml RRP $16.85 or if you buy in bulk, there's 1L pump RRP $25.70 (Which is super affordable and there's an assortment of sizes for your convenience)
Cetaphil Oily Skin Cleanser is available in 235ml RRP $11 and 550ml RRP $16.85
Cetaphil Moisturing Lotion is available in 250ml RRP $11.29
Thank you Niche Marketing Group & Galderma for supporting me through my Cetaphil experience, I definitely felt the super cleanse and hydration! :)
*The Cetaphil products were provided by Galderma. My reviews are based on my personal and true experiences of the Cetaphil range. I only recommend products that I truly support.